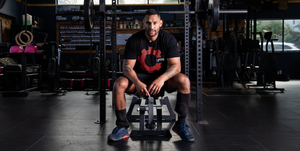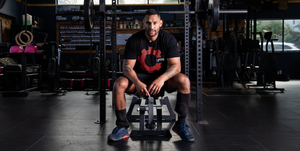 Transform Your Fitness: Premium Gym Equipment & Fit-Outs in New Zealand
Join the relentless pursuit for perfection with strength and conditioning equipment, weightlifting and cardio machines, all strenuously tested to ensure durable quality to lift you towards your fitness goals. Build your home gym from the ground up with gym flooring to racks and rigs, or attain a state-of-the-art gym fit-out from Industrial Athletic to create your fitness Mecca.
For beginners looking to embark on a journey of strength, to elite athletes and gym owners, Industrial Athletic delivers unquestionable quality and unparalleled customer service to get you, and your home gym, in peak condition. Find the strength to invest in you. 
★★★★★

So the benefit that I had with going with Industrial Athletic is they've been involved with a lot of gym fit-outs from start to finish, the professionalism and the experience. There's no other choice, they're at the top of their game.

Chris Burke - Owner/Head Coach

CrossFit Metal Zone
★★★★★

To get quality barbells that can handle a high amount of usage, especially when you've got a particular budget to start with, you need to know it's going to last you and it's going to be fit for the use you'll put it through in the gym. Make sure you've got something that you are proud of, you're happy with, and is going to last is really critical.

Simon Thomas - Head Strength and Conditioning Coach

Canterbury Rugby
★★★★★

If you want weight lifting equipment that's going to do the job and do it well and it's going to last, then I'd definitely say 'spend the money on it', and I'd definitely recommend Industrial Athletic because it ticks all the boxes when it comes to gym equipment

Johnny Leo'o - Strength & Conditioning Coach

St Thomas of Canterbury College
★★★★★

I didn't really look around too much to be honest. I have a good idea of what's out there and have dealt with a few different gym equipment suppliers. So it was a bit of a no-brainer for me - it was a trust thing. I knew the products were good quality, and I knew the service I was going to get from Rob was good and I could trust him.

Jan Reyneke - Head Strength & Conditioning Coach

Saint Kentigern College
Who we are
Industrial Athletic is the premier manufacturer of strength building equipment, exercise and fitness/gym equipment in Auckland, New Zealand. Priding ourselves on unparalleled customer service and a relentless pursuit for quality, we provide New Zealanders all the hardware they need to achieve their fitness goals.
IA fits out leading gyms with weightlifting equipment, fitness products for functional training, Olympic and powerlifting equipment, right through to specific gear for cross-training workouts.
From beginners looking for home gym equipment, an elite athlete, or a gym owner searching for commercial gym equipment for a state-of-the-art facility fit-out - We have you covered from bars to bumpers & beyond!